Una nota de prensa oficial revela que la empresa MIDI Scientific Games, que se dedica a proporcionar soluciones de lotería y juegos de azar, ha adquirido los derechos para fabricar, producir y distribuir juegos de "rasca y gana" de Los Vengadores. A continuación os dejamos dicha nota de prensa, que lamentablemente solo hemos podido conseguir en inglés.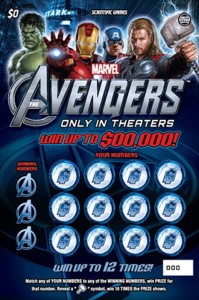 Alpharetta, GA – November 16, 2011 – MDI Entertainment, LLC, a subsidiary of Scientific Games, has reached an agreement with Marvel Entertainment, LLC, to offer instant lottery games featuring characters and themes from the widely anticipated film "Marvel's The Avengers," due for release on May 4, 2012. The film already is receiving considerable press coverage and is being called "the ultimate Super Hero movie," as it unites several of Marvel's most celebrated characters: Thor, Iron Man, Hulk, Captain America, Hawkeye, Nick Fury & Black Widow.

The Avengers characters have been loved by generations of comic fans since they were first presented as a team in 1963. This new film promises to deliver an exciting 3D experience for viewers, as it continues the epic adventures started in the box office hits "Iron Man," "The Incredible Hulk," "Iron Man 2," "Thor" and "Captain America: The First Avenger." These films were released in theaters between 2008 and 2011, and all opened at the top of the box office charts.

"Movie properties have worked well for lotteries in the past, and this is a very special opportunity," said Steve Saferin, President, Properties Group and Chief Creative Officer for Scientific Games. "This could be the movie of the summer for 2012, and it's already being covered in the media, so we expect a lot of excitement surrounding this property by the time it hits theaters in May. This excitement, combined with the attention-grabbing artwork Marvel has provided for instant tickets and point-of-sale pieces, presents lotteries with a terrific opportunity."

"Marvel's The Avengers" features a cast of Hollywood superstars with wide demographic appeal including Robert Downey Jr., Mark Ruffalo, Chris Hemsworth, Scarlett Johansson, Jeremy Renner and Samuel L. Jackson. MDI has the worldwide rights to use character images on instant tickets and promotional items. Avengers merchandise also will be available to lotteries for prizing and promotional giveaways. Additional promotional tie-ins with the film are in development as well.

About Scientific Games
Scientific Games Corporation is a global leader in providing customized, end-to-end gaming solutions to lottery and gaming organizations worldwide. Scientific Games' integrated array of products and services includes instant lottery games, lottery gaming systems, terminals and services, and internet applications, as well as server-based interactive gaming machines. For more info, please visit our web site at www.scientificgames.com.

Marvel Studios presents in association with Paramount Pictures "Marvel's The Avengers"–the super hero team up of a lifetime, featuring iconic Marvel super heroes Iron Man, the Incredible Hulk, Thor, Captain America, Hawkeye and Black Widow. When an unexpected enemy emerges that threatens global safety and security, Nick Fury, Director of the international peacekeeping agency known as S.H.I.E.L.D., finds himself in need of a team to pull the world back from the brink of disaster. Spanning the globe, a daring recruitment effort begins.

Starring Robert Downey, Jr., Chris Evans, Mark Ruffalo, Chris Hemsworth, Scarlett Johansson, Jeremy Renner and Samuel L. Jackson, & directed by Joss Whedon from a screenplay by Joss Whedon, "Marvel's The Avengers" is based on the ever-popular Marvel comic book series "The Avengers," first published in 1963 and a comics institution ever since. Prepare yourself for an exciting event movie, packed with action and spectacular special effects, when "Marvel's The Avengers" assemble on May 4, 2012. The film is distributed by Walt Disney Studios Motion Pictures. In addition to "Marvel's The Avengers," Marvel Studios will release a slate of films based on the Marvel characters including "Iron Man 3" on May 3, 2013!; and "Thor 2" on November 15, 2013.