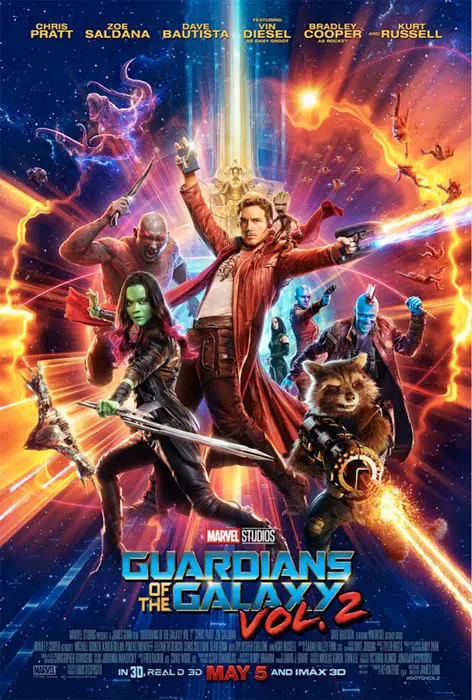 Con una recaudación de 863,6 millones de dólares, Guardianes de la Galaxia Vol. 2 es actualmente la segunda película de superhéroes más taquillera del año y la sexta del UCM.
Aunque la secuela no fue tan bien recibida como la primera parte, muchos fans están encantados, y como recompensa James Gunn ha querido compartir con ellos el guión final completo de la película.
As promised, the Guardians of the Galaxy Vol. 2 script is now online. Read it here for free: https://t.co/xXGha4EhMH

— James Gunn (@JamesGunn) November 21, 2017
Además, también ha compartido una serie de publicaciones en las que explica el proceso de creación del guión, incluyendo la influencia de Avengers: Infinity War.
1 I'll answer people's questions here in a thread, because many of them are the same. Some words are CAPITALIZED. This is not random. These are usually props or actions the actors or camera will take.

— James Gunn (@JamesGunn) November 21, 2017
2 Some lines are different. These are the lines that were actually written without including any of the improvisation by the actors on set. And some lines were cut from the film.

— James Gunn (@JamesGunn) November 21, 2017
3 I wrote 9 drafts of the screenplay I turned into the studio, along with at least 4 drafts of the treatment. But I wrote dozens of drafts for myself in-between those, trying to make the script the best I could.

— James Gunn (@JamesGunn) November 21, 2017
4 No, the draft for the first GotG is not available.

— James Gunn (@JamesGunn) November 21, 2017
5 The script was written in Final Draft. It was heavily outlined – I put more work into the Treatment than I do the script itself.

— James Gunn (@JamesGunn) November 21, 2017
6 I took a lot of notes on what would happen in Vol. 2 before ever starting Vol. 1. I actually started writing the treatment/story on the day the first film came out (Aug 1 2014) and the script was pretty much finished in October of 2015 a couple months before shooting.

— James Gunn (@JamesGunn) November 21, 2017
7 The studio suggested no changes to make it more amendable to Avengers 3 or 4. I did, however, give Markus & McFeely and the Russo Brothers the script in October 2015 so they knew where the Guardians ended up while they were writing.

— James Gunn (@JamesGunn) November 21, 2017
8 Improvisation is only ever encouraged AFTER we have the scene shot as written. Most improv on set is by me or Chris.

— James Gunn (@JamesGunn) November 21, 2017
9 The extended post credits scene with Adolescent Groot and Quill was cut because it is funnier to read than it was to watch. It just happens that way sometimes, who knows why. I thought it was funny on set.

— James Gunn (@JamesGunn) November 21, 2017
10 All of the post-credits scenes were included all the way back in the treatment – I didn't discuss therm with Marvel beforehand, but they liked them. EXCEPT the Stakar/Ravagers scene, which I wrote after we had completed primary filming.

— James Gunn (@JamesGunn) November 21, 2017
11 I awoke with a vision of the Stakar Ravagers scene in my head and couldn't stop thinking about it for days. We almost didn't include the Adam Warlock scene because he was definitely not in Avengers 3 or 4 and we had no plans for him in general.

— James Gunn (@JamesGunn) November 21, 2017
12 And despite so many people thinking Adam will show up in Vol 3 that is something that we have never confirmed. Who knows how long it will take him to bake in that cocoon. That said, I love Adam. But the time must be right.

— James Gunn (@JamesGunn) November 21, 2017
13 There are MANY things I do in the script that I would probably not do if I wasn't directing. I write a fair amount of camera moves & I write in the songs.

— James Gunn (@JamesGunn) November 21, 2017
14 The songs are all chosen in the treatment phase – sometimes before I write the scene and sometimes after.

— James Gunn (@JamesGunn) November 21, 2017
If it doesn't affect plot, I'd keep it out.

— James Gunn (@JamesGunn) November 21, 2017
The movie is two hours and fifteen minutes. I space out action to make it easier and more fun to read. The various Marvel screenplays have very little in common with each other.

— James Gunn (@JamesGunn) November 21, 2017
Most people don't write out each beat of the action like I do – so that is never the case with my screenplays.

— James Gunn (@JamesGunn) November 21, 2017
Yes – @Simonlikes

— James Gunn (@JamesGunn) November 21, 2017
This is the script as is.

— James Gunn (@JamesGunn) November 21, 2017
Yes

— James Gunn (@JamesGunn) November 21, 2017
It's generally a camera direction. When you're not directing the film, it's probably wise to avoid.

— James Gunn (@JamesGunn) November 21, 2017
It's semi-rare on big budget films, especially when there's only one writer. It's common on lower budget films.

— James Gunn (@JamesGunn) November 21, 2017
No. No plans to do so.

— James Gunn (@JamesGunn) November 21, 2017
This is the actual script, without improvisation.

— James Gunn (@JamesGunn) November 21, 2017
The epilogue is on pg 131 or so, just as it is in the movie. You nearly gave me a heart attack.

— James Gunn (@JamesGunn) November 21, 2017